Bio Ag World Congress welcomes LINNA®, Sunbrella® and many other novelties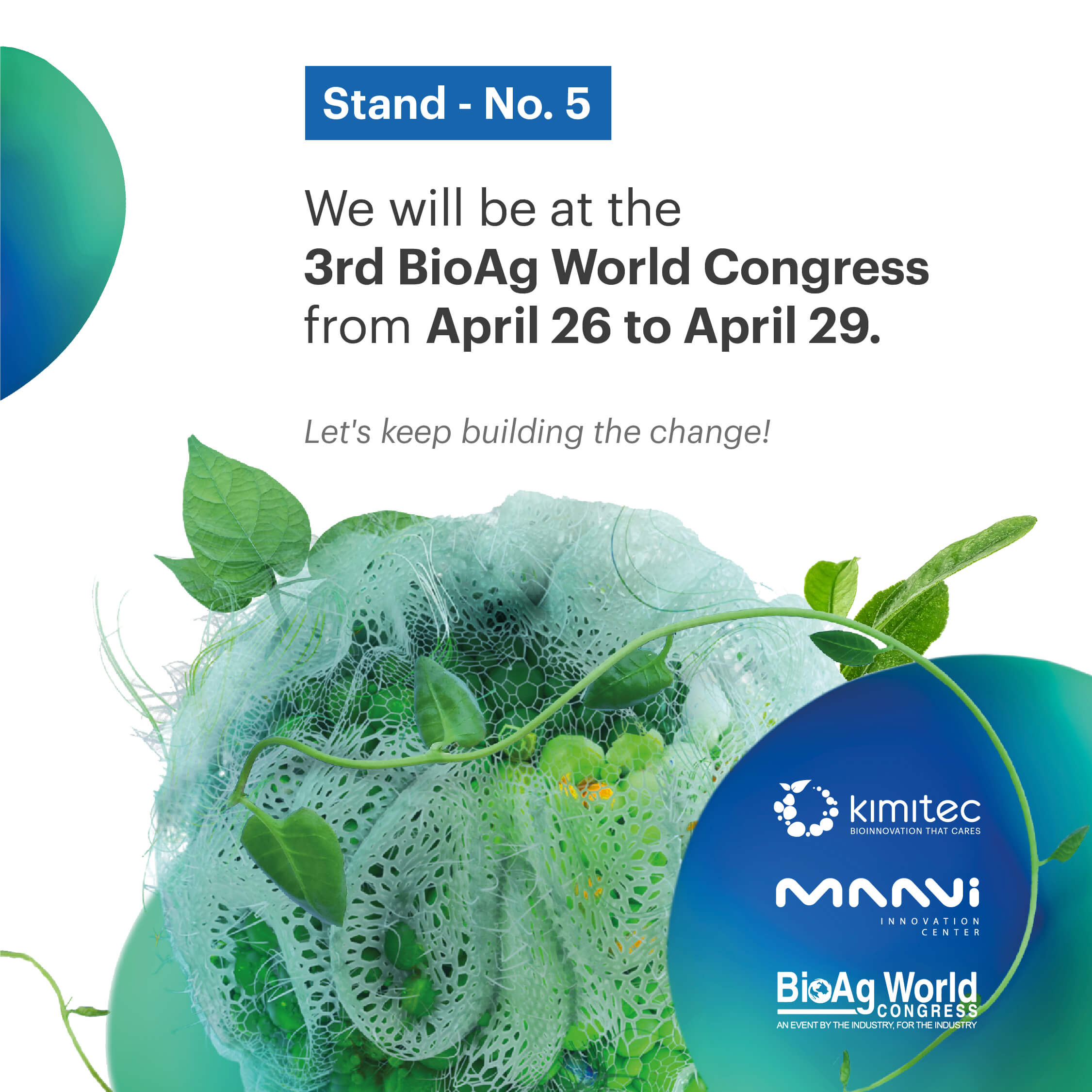 The Bio AG World Congress is just around the corner; from April 26 to April 29, 2022, Valencia will host the world's largest biannual event devoted to biologicals, and Kimitec will be there to present novel disruptive ideas. The groundbreaking Artificial Intelligence platform LINNA® will be the center of attention during an event full of surprises… will you join us to learn more?
LINNA® as a guest star
Only around 1% of the natural compounds on our planet are known today, a small percentage that can still provide us with solutions in agriculture, health, and agribusiness. This suggests that our information, and hence our solutions, are highly limited, and that finding solutions to current and future challenges will be much easier if we can effectively expand our knowledge. But is something like this even possible? What if we told you we've already begun working on it?
That's right! This year, we will showcase Kimitec and MAAVi Innovation Center's outstanding initiative, which combines Natural Intelligence and Artificial Intelligence with creativity. LINNA® is an AI platform with its own algorithm that allows us to shed light on a vast amount of hidden natural resources, reaching previously unattainable levels of knowledge quickly and accurately with a narrow margin of error.
A one-of-a-kind global platform that integrates information from the chemical, phenotypic, and transcriptomic profiles of numerous microbes, chemicals, and molecules to give all-encompassing solutions to challenges linked to the effective and sustainable replacement of synthetic molecules.
LINNA® has arrived and is here to stay. We prefer to think of LINNA® as the technological granddaughter of Carlos Linneo, the eighteenth-century taxonomist who cataloged the majority of the plant species we know today; after all, we named our AI platform after him. The presentation will take place on Thursday, April 28, at 12:30 p.m. in the Multipurpose Room, and will include an explanation of the functions of our newest addition, LINNA®, who is eagerly awaiting your visit and is certain to make you very happy!
AI won't be the only surprise
As if the presentation of Linnaeus' technological granddaughter (LINNA®) was not enough, at this Bio AG World Congress our stand will feature the presentation of two seasonal products… never better said.
Avoid getting scorched, use Sunbrella®
Putting the humor aside, we'll be showcasing Sunbrella®, one of our latest product additions, at the Bio AG World Congress. This sun protection product not only shields the plant and its fruits from sunburn (those UV rays that cause people to tan and burn in equal measure…, and which also harm plants), but it also reduces stress caused by light, temperature, and oxidation. This product, unlike some others, is developed using natural molecules rather than synthetic ones (since it couldn't be otherwise), it does not stain, and it does not leave any residues.
Sunbrella® also has the following benefits: it does not delay crop maturity, it allows for crop transpiration, it may be used in combination with other nutritionals and crop protection products, it does not clog irrigation systems, and it does not require machinery cleaning after treatment. Do you want to know more? We'd be delighted to answer any questions you have about this or any of the other products at our stand.
Don't fall asleep…. with Invierna®
At Kimitec and MAAVi Innovation Center we believe in a different way of producing food, and we recognized that with rising global temperatures and climate change, a lot of innovation was required to help farmers in the management of deciduous fruit trees. For that reason, we developed Invierna®, a budding and flowering synchronizer that brings something unique to the market: it awakens dormant crops, is environmentally friendly, and completely harmless for the applicator.
As previously indicated, the primary advantage of Invierna® is that it homogenizes crops by safely and naturally synchronizing their phenological phases (budding, flowering, maturation, and harvesting). As a result of this uniformity, we can see how production increases while operating costs decrease.
Without a doubt, a valuable product about which you may want to learn more… so stop by stand No. 5!
According to what we've discussed, we're bringing a lot to the table, right? But there's more where it came from, because Kimitec has been hit by the gold rush. This April 2023 we will raffle a Gold Brick among all those who choose to participate! Yup, you read that correctly: a whole brick dedicated to you… can you believe it? Then put your imagination aside and visit the stand, where you will be greeted with a nice surprise. You might come looking for natural products that are more effective than synthetic chemistry and leave covered in gold…
However, if you are unable to visit the fair but still like to participate in the drawing, we have provided you with an invitation to participate online.
We know that this is a lot of information, so we have put together a brief timeline of the key events, so you do not miss anything.
· Doors open at BioAG World Congress: April 26. Kimitec will be located at stand No. 5.
· April 27, 8:15 a.m.: Roula Saliba, Kimitec's MEA General Manager and Vice President of Sales, will speak at the congress's first session.
· April 28, 12:30 p.m.: Kimitec will showcase LINNA®, the Artificial Intelligence platform, in the Multipurpose Room of the Prince Felipe Museum, City of Arts and Sciences.
· April 28, 4:30 p.m.: Alejandro de las Casas, International CEO of Kimitec, will participate in this edition's CEOS Panel, which will focus on the agenda for introduction of biological products.