El Salvador's Minister of Agriculture and Livestock, David Martínez, Highlights MAAVi Innovation Center's Vision for the Future and the Opportunities It Offers for the Salvadorian Agri-Food Industry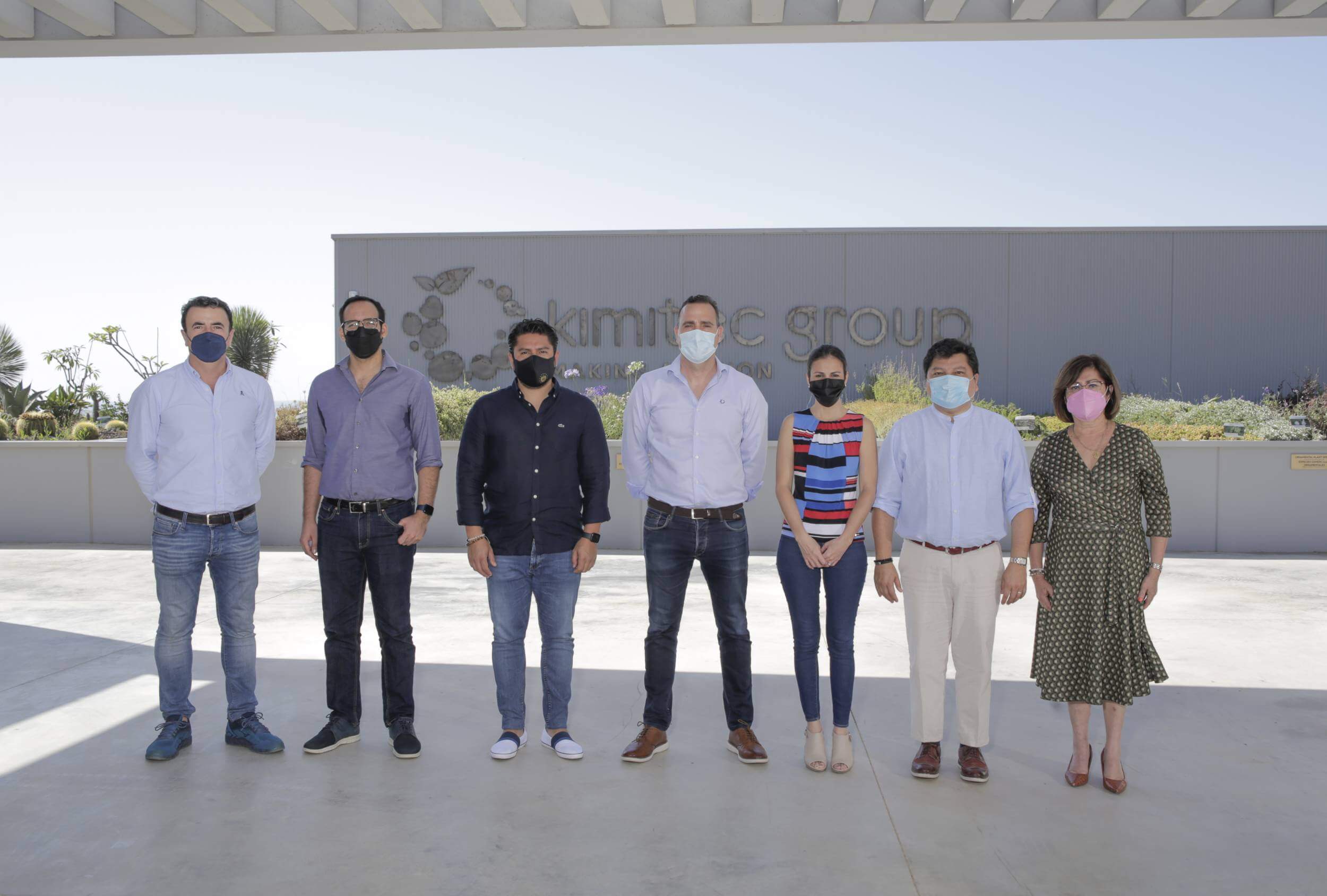 Along with other senior officials, he visited the Almería biotechnology hub.
Almería. June 2021. El Salvador's Minister of Agriculture and Livestock, David Martínez, led a delegation from the Central American country to the MAAVi Innovation Center, Kimitec's research center in Almería. Martínez had the opportunity to visit Europe's largest biotechnology research center dedicated to natural agriculture, and he expressed interest in the hub's numerous projects and green methodologies aimed at promoting responsible and natural agriculture to change the way food is produced, that is, without synthetic chemicals. MAAVi develops alternatives to synthetic chemistry by identifying synergies across four of nature's core domains: botany, microbiology, microalgae, and green chemistry.
Martínez's visit is part of the Ministry of Agriculture and Livestock of El Salvador's search for innovative and sustainable agricultural solutions, with a focus on a variety of agricultural products, notably fruits and vegetables, coffee, and shrimp farming. A flourishing industry seeking to expand and increase exports through innovative techniques that guarantee healthy food, zero residues, and environmental responsibility.
Martínez lauded the visit and highlighted the facilities and activities of the MAAVi Innovation Center. He praised the center's future vision, pragmatic search for answers to specific agrarian challenges, and potential opportunities it can offer the Salvadorian agri-food industry, which his administration intends to promote through a Master Plan to restore productivity levels seen in previous decades. "The goal is to revitalize the economy through agriculture. Which is why such experiences are so valuable to us." Shrimp farming, he believes, will become increasingly important for the Central American country in the future. "MAAVi is taking the necessary steps to revolutionize the industry; we believe it will be a key partner in El Salvador's new era of development," Martínez stated.
Present in over 90 Countries
The MAAVi Innovation Center is Europe's largest biotechnology Research and Development center for biopesticides, biostimulants, and probiotics. Located in Almería, "Europe's vegetable garden", the center is surrounded by 25 thousand hectares of greenhouses, making it the world's largest concentration of protected agriculture. The MAAVi Innovation Center is Kimitec's biotechnological hub; the company has a unique perspective on agricultural production and a global presence in over 90 countries.
During the visit, Félix García, CEO of Kimitec, and Antonio Domene and Alejandro de las Casas, vice president and International CEO of the company, respectively, accompanied the Salvadorian delegation, which included El Salvador's Minister of Agriculture and Livestock, as well as Mauricio Antonio Peñate Guzmán, Ambassador of the Republic of El Salvador in Spain; Karla de Palma, director of the El Salvador Agency for International Cooperation (ESCO-El Salvador); Ibrajim Antonio Bukele Ortez, adviser to the Presidency of the Republic; Guadalupe Mayoral, Minister Counselor of El Salvador in Spain; and Edgar Alejandro Huezo Saavedra, Minister Counselor of El Salvador in Spain.
The visit was also attended by the sub-delegate of the Government of Spain in Almería, Manuel de la Fuente; the Councilor for Agriculture of the Almería City Council, Juan José Segura; the vice-rector for Postgraduate Studies at the University of Almería (UAL), Julián Cuevas; the vice-rector for Employability and Relations with companies and institutions of the UAL, Juan García; and the vice-rector for Research and Innovation of the UAL, Diego Valera Martínez.
Making a Difference in the World
MAAVi is an acronym that stands for "Making a Vision," a vision that seeks to transform the way food is produced to make the world a better place.
Since 2013, MAAVi has invested more than 20 million euros in R&D, both in its own private projects and in cooperation with other institutions and public bodies and is the only research center with four Horizon 2020 projects, one of Europe's highest research awards, in the agri-food sector.
MAAVi is currently working to increase the sustainability of agribusiness powerhouses, large producers, and food companies by aiding them in producing greener, tastier, and healthier food.