The Asia Fruit Logistica is about to start and Kimitec will be there!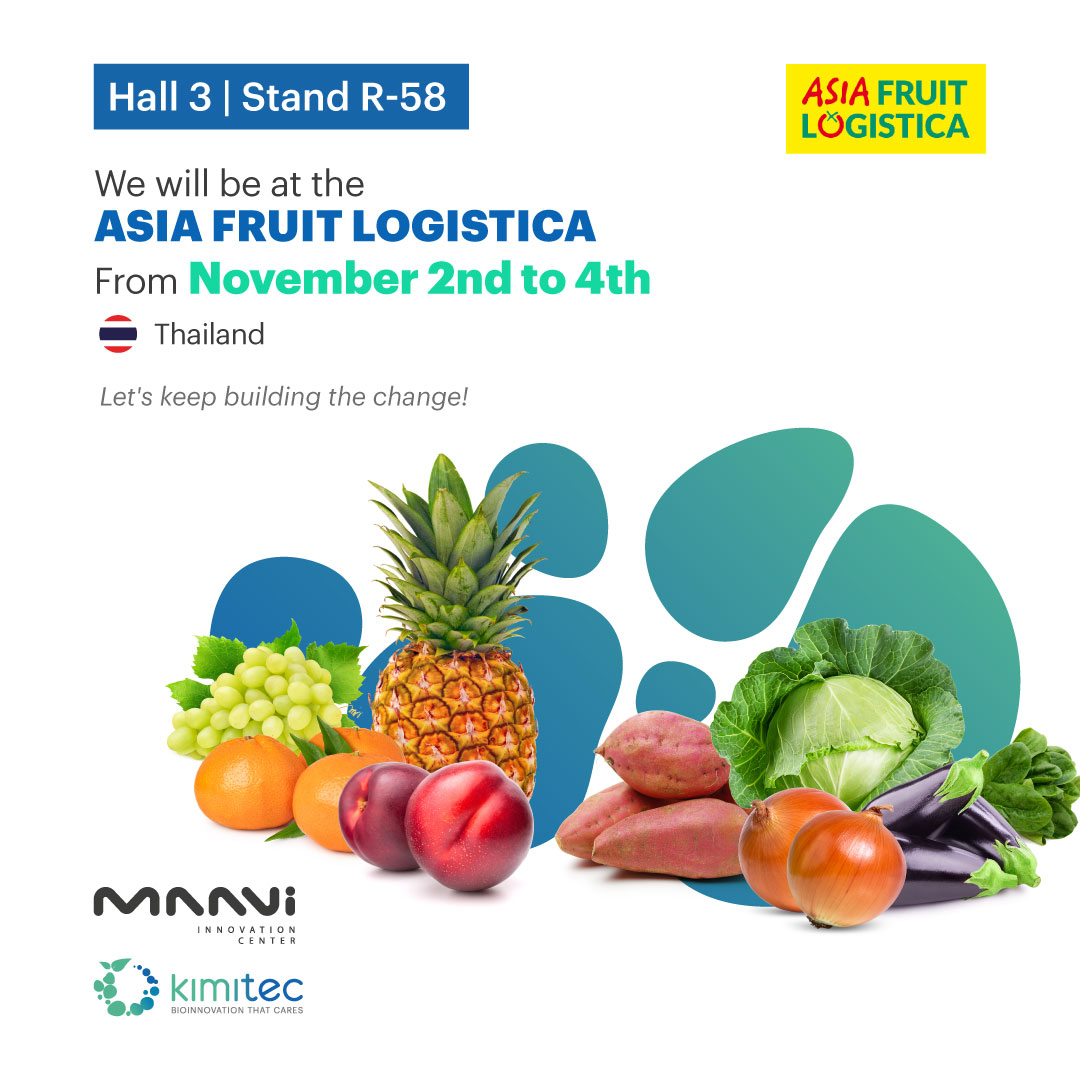 It is official. We will be at Asia Fruit Logistica! From November 2 to November 4 , 2022, we will be waiting for you at the Queen Sirikit National Convention Center in Bangkok.
We are really happy to attend Asia's largest trade fair for fresh fruits and vegetables for the first time.
See you at Hall 3, Stand R-58. Do not hesitate to come visit us… We have so many news to share! You will learn about our all-natural products, designed to answer your every need, helping your crops reach their full genetic potential and achieving the perfect balance between productivity, profitability, sustainability and health preservation.
Natural innovative solutions
You will be introduced to our sustainable, effective and productive bestsellers, especially Bombardier®, Batallón®, Mycogel®, Xtender Row Ultra™ and Prebiota Ultra™, as well as new releases such as Invierna®.
Bombardier®, our biostimulant that reduces stress and increases crop productivity.
Batallón®, our soil biostimulant for yield, precocity and fruit size enhancement.
Mycogel®, our soil probiotic based on pure, highly concentrated mycorrhizae in gel without clays or other insoluble elements.
Xtender Row Ultra™, our biostimulant and prebiotic for row crops.
Prebiota Ultra™, our soil microbiota regenerator.
Breaking news
Kimitec stands for innovation, and that is confirmed by amazing products such as INVIERNA®, our latest release that will be waiting for you at Asia Fruit Logistica.
Invierna®, our budding and flowering synchronizer as effective as the most commonly used market alternative and more effective than other nutrient-based alternatives.
Artificial Intelligence
You will also have the chance to learn about our unique research model, based on the synergies between four areas of knowledge: Botany, Microbiology, Microalgae and virtual candidates from LINNA®.
LINNA® is our Artificial Intelligence platform and the heart of our MAAVi Innovation Center®. It allows us to reach previously unattainable levels of knowledge quickly and accurately, minimizing the margin of error, accelerating research processes, and retaining knowledge indefinitely, thanks to a disruptive research methodology based on our expertise in Natural Intelligence accumulated over the last 15 years.
Artificial Intelligence helps study the 99% of unknown natural compounds, to discover:
new natural compounds,
new uses for known compounds,
and new hidden molecular patterns.
The goal of our technology platform for 2030 is to analyze 3-5 million natural compounds with over 95% prediction accuracy.
Win a 1 kg gold bar and an iPad Air
GO FOR THE GOLD!
Participate in our "GO FOR THE GOLD" raffle for the chance to win a 1 kg gold bar and other amazing prizes every month.
This month, your prize is an iPad Air 256gb.
Win a gold bar and other prizes
Visit us at Hall 3 | Stand R-58. We will be waiting for you!
Let's keep building the change!