Cosentino and Kimitec, Two Giants of the Almerian Industry, Team Up to Promote Circular Economy – EOCENE Project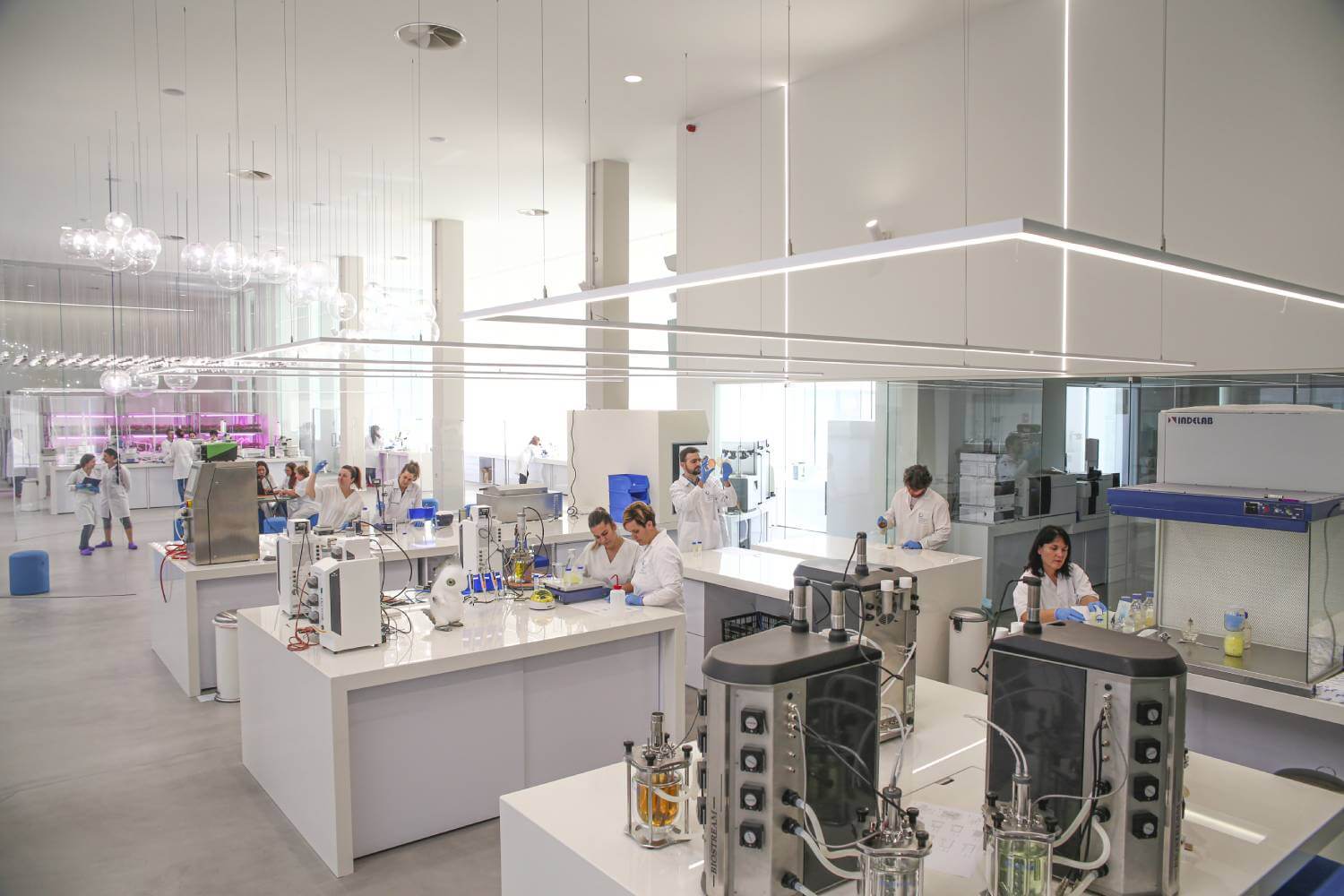 Consortium between giants
The EOCENE project was born as a disruptive consortium of 7 large companies. Although their business models are very different, these companies are united by inspiration, open-mindedness and collaboration. Kimitec, Cosentino, Acciona, Omar Coatings, Aerotecnic, Reciclalia and Suez: together they are at the forefront of the circular economy.
Cosentino, project leader, is a global Spanish family-owned company that produces and distributes innovative high-value surfaces for the design and architecture sector. It bases its business on international expansion, an innovative research and development program and the respect for the environment and sustainability. From its headquarters in Cantoria, Almeria (Spain), its products are distributed in over 110 countries.
Kimitec, a biotechnology company focused on natural agriculture and owner of the largest research center for biopesticides, probiotics and prebiotics in Europe, the MAAVi Innovation Center, is based on an open and collaborative business model that carries in its DNA the "industrial symbiosis". A symbiosis where companies from different sectors, with apparently nothing in common, join forces and design a new project concept where the by-products of one industry become sustainable raw materials for another.
Félix García, Kimitec CEO, comments that "companies should encourage the inspirational and collaborative side, should be open and give value to all processes. Disruptive companies are a source of ideas that not only contribute to a project with numbers, but rather, with their individual qualities, giving life to something out of the ordinary that adds value. Kimitec offers all its biotechnology, its RDI and its whole "biotechnological hub" to the EOCENE project".
Misiones Ciencia e Innovación–CDTI
As we mentioned, EOCENE is the result of a brainstorming of strengths among different companies, and a long-term strategy for its 7 partners (which will work from different parts of Spain: Kimitec, Cosentino and Aerotecnic from Andalusia, Acciona and Suez from the Community of Madrid, Reciclalia from Castilla la Mancha and Omar from the Valencian Community). Their goal is to achieve zero waste, give value to by-products of production processes and contribute to industrial sustainability by giving a second life to their by-products and obtaining new, high-quality raw materials.
The EOCENE industrial research project is part of the program "Misiones Ciencia e Innovación" (Science and Innovation Missions) granted by the Ministry of Science. This program had 83 million euros to allocate in the 2020 call, and is the first project of this type (aimed at financing large business' R&D projects). A relevant novelty is that the design of the program is based on the detection of capabilities in the Spanish innovative ecosystem, as well as priority support areas (public consultations with business and scientific agents, technology platforms, certifying capabilities and interests when outlining the missions, etc.).
EOCENE has been one of the 24 selected and most valued initiatives, among more than 100 submitted for this program, within "Misiones Grandes Empresas" (Big Enterprises Missions), and specifically in the area of research for the promotion of the "Spanish Industry in the Industrial Revolution of the XXI Century".
The State Plan for Scientific, Technical Research and Innovation 2017-2020 promotes intensive initiatives in RDI. These companies must have a relevant participation of research organizations, technology centers and universities, and will aim to contribute to the development of the Sustainable Development Goals by the United Nations in the 2030 Agenda.
This program is managed and subsidized by the Center for the Development of Industrial Technology (CDTI). It seeks to promote relevant research that proposes solutions to strategic challenges of Spanish society, such as initiatives aimed at fighting climate change and promoting sustainability, both environmental and economic-social.
What does EOCENE Aim to Achieve?
The Circular Economy requires an optimal and real management of waste (by-products) in order to create an effective economy. This objective is framed in the European Union's 2030 Agenda for Sustainable Development, which aims to reduce greenhouse gas emissions up to 55% by 2050 and its footprint associated with the plastics industry.
For this reason, EOCENE project (3 years and 2 months, 9 million euros) promotes, on one hand, the procurement of all the components of a composite material (resin and fillers and/or reinforcing fibers) from renewable sources. On the other hand, the development of sustainable technologies for controlled recycling processes and revaluation of waste at the end of its life cycle. These innovations merge synergistically to achieve a new generation of highly sustainable composites for three key applications: architecture and design, construction and aeronautics.
The thermostable manufactured composites will be more sustainable and capable of being reused and recycled, favoring the circular economy.
Milestones to be achieved within the project:
To obtain monomers from waste (by-products) from the agri-food industry, the composites industry and renewable sources (vegetable oils, lignin and cellulose).
To formulate new thermostable bioresins of epoxy, polyester and vinylester (alternatives to petrochemicals).
To develop new advanced procedures to obtain high technical performance fillers and fibers from waste and other highly available sources.
Technological research on the modification and functionalization of different ways to improve the recyclability of thermostable composites.
This project will create a new generation of highly sustainable thermostable composites, thanks to the synergy and combination of all these elements.
Kimitec as "Technological Hub"
Kimitec is present in over 90 countries around the world and with delegations in USA, Brazil, LATAM and China. It owns the largest research center for biopesticides, probiotics and prebiotics in Europe, the MAAVi Innovation Center. Kimitec makes available to the EOCENE project its great strength as "Biotechnological Hub".
We are an open-minded and disruptive company at the service of agriculture. Being open, looking for all kinds of sources, research and collaborations between public or private centers and, above all, making known the potential of biotechnology is what drives our company.
Our RDI team is structured in 3 research lines: Biocontrol, Plant Performance and Pre & Probiotics. These three areas are based on our 4HEALTH Technology, which has been exclusively developed by Kimitec over the last few years. It consists in obtaining natural raw materials from four different sources: Microbiology, Microalgae, Botany and Green Chemistry. These four technologies serve all the company's developments as follow: Funded projects (internationally recognized thanks to the H2020 program. Kimitec has participated in 4 of them), internal RDI projects and MAAVi LAB (internal and private projects that consist in putting all Kimitec's experience, know-how and facilities at the disposal of society and agricultural producers and their needs).
Kimitec brings to the EOCENE project its extensive experience in circular economy and the development of industrial fermentations from food industry by-products. In this way, the obtaining of monomers will be optimized both at pilot and industrial level.
Kimitec has experience in the treatment of by-products from the agri-food industry through the use of synthetic biology thanks, among others, to the MIPLASCOE project funded by CDTI, which ended in 2019. This project consisted in the production of monomers through fermentation processes, in order to obtain biopolymers for the manufacture of sustainable and biodegradable packaging for the food industry.
This project, together with Kimitec's experience in directed fermentations, biotransformations and synthetic biology, makes Kimitec the ideal partner for the execution of the industrial project EOCENE.
Applied Technology
Kimitec will investigate substrates, producer strains and fermentation processes for the production of natural monomers. For this purpose, it will select raw materials to be used as fermentation substrate from by-products of the food industry. This will allow to characterize the raw materials and their pretreatment, to evaluate their capacity and obtain high performances.
Our microbiology team has extensive experience in the selection of microbial strains, and will be in charge of this procedure. They will select strains that are suitable for the manufacture of monomers.
Once the strains are selected, genomic and bioinformatics techniques will be used to select the gene operons responsible for the synthesis of the monomers. Then, in collaboration with research groups, synthetic biology techniques will be applied in order to create super-producing microorganisms.
MAAVi Innovation Center has a functional laboratory for all these processes, but also the National Center for Technology and Food Safety (CNTA) and the University of Seville will collaborate. These will support us in the design and research of fermentation processes.
This is a unique project that will allow us to discover what we are capable of, and to look for synergies in different sectors. We will be able to participate in the fight for new sustainable developments, even though in this case it is far from our focus. For us, this is a challenge that we proudly accept by contributing all our potential until the end.