Fruit Attraction 2022: We introduce you to LINNA®, our Artificial Intelligence platform.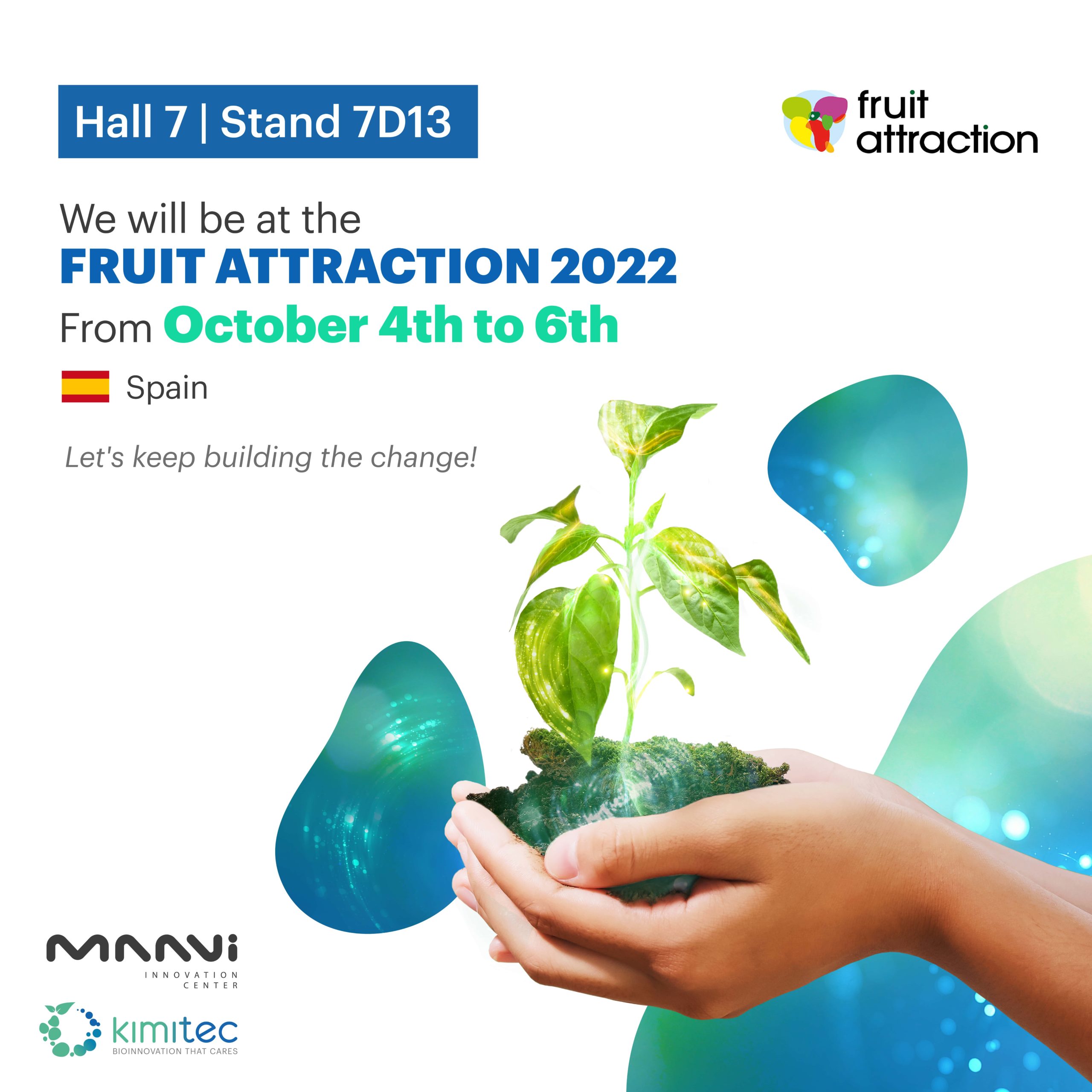 Once more, we will meet at the most important international agricultural event, Fruit Attraction 2022, which will take place from October 4 to 6; so save the date and if you are in Madrid, we would love to meet you at our stand in Hall 7 Stand 7D13.
As in previous years, you will be able to learn about all of the news we have in the agricultural world, and the tools you need successfully weather the impending perfect storm: progressively stricter regulations (Green Deal and Farm to Fork) banning the use of pesticides, fertilizers, and artificial hormones, as well as consumer and food chain demands for food with no residue and higher nutritional value.
We position ourselves as an effective, sustainable, and profitable alternative that contributes significantly to your productivity and long-term economic security.
What will you find at our Stand this year?
LINNA®: Kimitec and MAAVi Innovation Center's grand project, which combines Natural Intelligence and Artificial Intelligence with creativity. LINNA®, our AI platform that helps us achieve an unparalleled degree of knowledge, allowing us access to a yet undiscovered natural reality in a fast and accurate manner, with a minimal margin of error. LINNA® is a  one-of-a-kind platform, as it integrates information from the chemical profiles, phenotyping, and transcriptomics of various microorganisms, compounds, and natural molecules to provide a  360º solution to all types of challenges related to the effective and sustainable substitution of chemical synthesis molecules.
MAAVi Labs Aimed at producers who understand that the perfect storm is nearing and that only those who adapt to the changes will survive. Who is there to help you? We welcome you into the largest R&D&I Center focused on biotechnology in Europe: The MAAVi Innovation Center.
Together, we will evaluate and find solutions to your needs. We want to make your crops more productive and profitable. We will provide you with natural, effective and sustainable tools to accomplish this at no extra cost.
INVIERNA® Budding and flowering synchronizer as effective as the other natural and chemical alternatives, which requires less manpower and higher production quality. Furthermore, Invierna offers the significant advantage of being safe for the applicator, the environment, and nearby crops.
WOULD YOU LIKE TO TRY INVIERNA® IN YOUR CROPS? Click Here
Our constant commitment to innovation in the pursuit of profitable, natural, and responsible agriculture is also part of our DNA. At the MAAVi Innovation Center, we are actively engaged in more than 50 research projects that continuously improve our product lines: Biostimulants, Probiotics and Biocontrol.
Would you like to hear from our team directly about all of this and much more? Please get in touch with us, and we will arrange a meeting at Fruit Attraction 2022 to get to know one another and work together towards a more profitable, natural and sustainable agriculture.
Do not forget! Throughout the event, you can find us  in Hall 7 Stand 7D13.
The countdown to Fruit Attraction 2022 begins.
Let's keep building the change!