Kimitec and the University of Almería Launch the 'Kimitec & UAL Farm to Fork Partnership' to Promote R&D&I Projects in the Field of Natural, Productive and Healthy Agriculture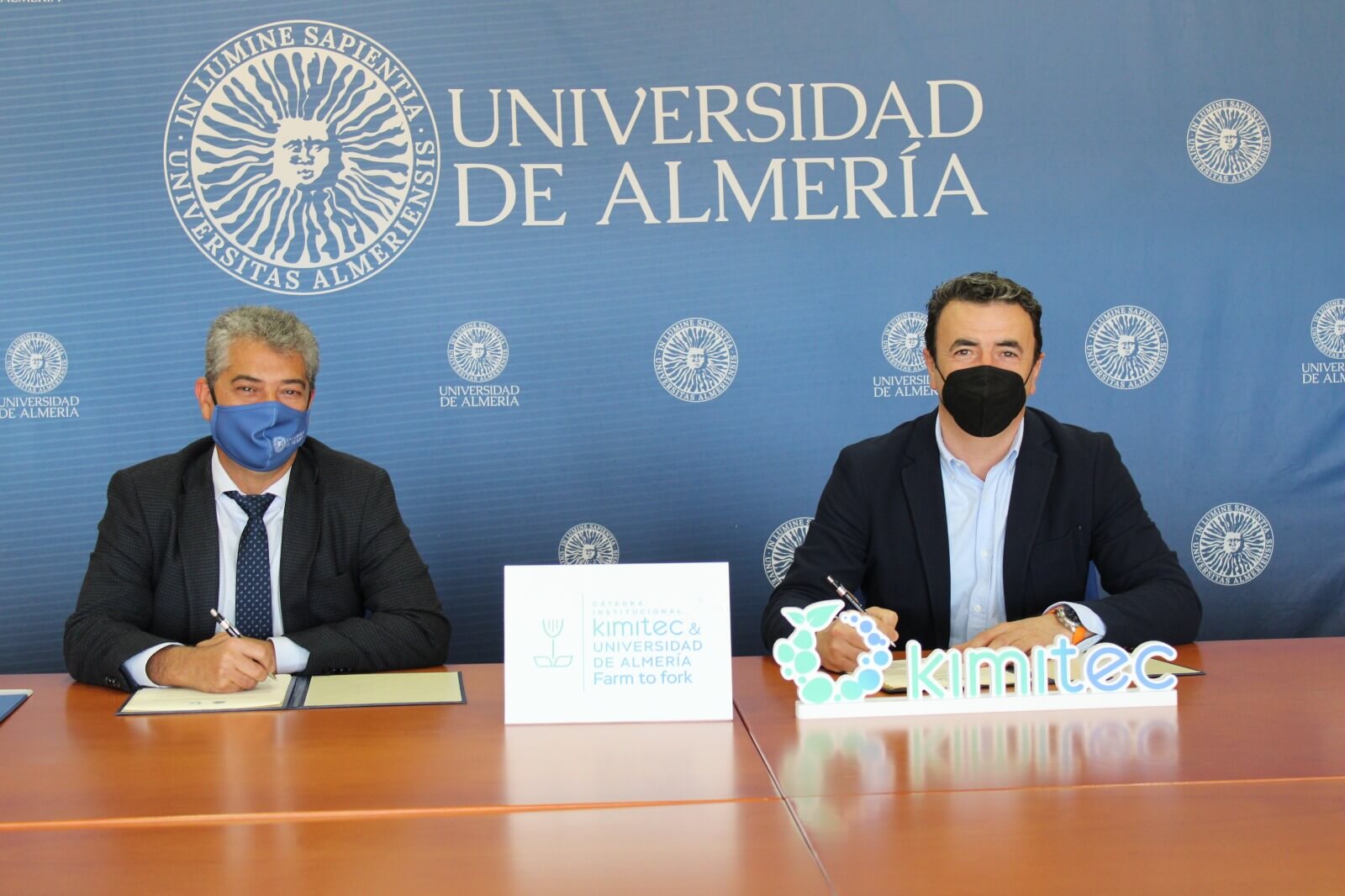 Both parties have signed a specific agreement to establish this partnership, under which they will collaborate on research, communication, and training activities related to the EU's 'Farm to Fork' strategy.
The partners aim to accelerate the transition to a productive agricultural system that fully guarantees food security and a positive environmental impact.
On Thursday, April 29, 2021, Kimitec and the University of Almería signed a collaboration agreement for the establishment of the 'UAL & Kimitec Farm to Fork Partnership', a collaborative framework under which they will conduct research, communication and training activities that might be of interest for both parties, mainly focusing on the EU's 'Farm to Fork' strategy.
The Rector of the University of Almería, Carmelo Rodríguez, highlighted the importance of such a partnership, "whose aim is to establish a synergistic relationship with Kimitec, a leading biotechnology company in the field of agriculture and owner of the MAAVi Innovation Center, the largest research center focused on natural agriculture in Europe. We intend to promote research and innovation activities aimed at fully guaranteeing food safety, consumer health and a positive environmental impact, by restoring the balance between productivity, sustainability and health preservation."
"We also want to achieve a strong relationship between both entities, synchronizing our R&D efforts within the agri-food sector, one of the main areas of study at the University of Almería," said the Rector.
The partners will focus on three priority areas. Firstly, they will conduct research, development and innovation activities, including finalist research contracts, research projects for public funding programs and other collaborative actions in the field of R&D&I.
Secondly, both partners will try to promote scientific talent by establishing training and development programs for talented researchers, including industrial PhDs.
Finally, both entities will participate in the scientific communication and publication of the results obtained from all R&D&I activities conducted under this partnership.
According to Antonio Domene, Vice President of Kimitec, "If we want to meet the challenges posed by the EU in its Farm to Fork strategy, we need to start developing the natural and effective tools producers require. With over 45 projects grouped in three different research lines (crop protection, plant nutrition, and pro- and prebiotics), our MAAVi Innovation Center strives daily to achieve that goal, but the collaboration with other knowledge centers, such as the University of Almería, makes our work much easier." The projects focus on solving the main problems facing global agriculture with natural, effective and productive solutions, aimed at achieving zero residues; increasing water and nutrient management efficiency; improving the nutritional value, organoleptic properties, and post-harvest life of fruits, and optimizing circular economy in the agri-food industry.
Kimitec and the MAAVi Innovation Center employ over 230 people with a common goal: They are determined to change the world by changing the way of producing food. "And we want to start here, in Almería, by promoting local talent and research activities," comments Domene.
The agreement commits both parties to promote a safe, healthy and environmentally sustainable agri-food system by developing a common research, training and communication program for R&D&I projects.